Welcome!
The Remutaka Conservation Trust is a community group committed to protecting and restoring the landscape and native wildlife of the Remutaka Forest Park located near New Zealand's capital city, Wellington.
The park - and mountain range - were recently renamed to 'Remutaka Forest Park' and 'Remutaka Range' following a Treaty settlement with Wairarapa and Southern Hawkes Bay iwi (Rangitāne o Wairarapa & Rangitāne o Tamaki nui-ā-Rua). (Details here...)
Remutaka Forest Park is a magnificent area of mostly native forest in the hills east of Wellington.
It encompasses the Remutaka Ranges and the Orongorongo River, just north of the spectacular earthquake terraces and seal colony at the Turakirae Head Scientific Reserve.
The Park is characterised by steep, bush-clad hills and narrow fern-filled valleys cut by abundant freshwater streams and the beautiful Orongorongo River. Throughout the park, there are many well-formed and signposted walking tracks appealing to bushwalkers and nature lovers of every age and state of fitness.
The 22,500 hectare park is easily accessed by road from Wellington or Lower Hutt. Simply take the hill road to Wainuiomata and follow all the signs to the Coast Road/ Remutaka Forest Park and then turn left at the Catchpool Stream access road into the Park. (See Map)
The Remutaka Conservation Trust is committed to preserve and restore the natural biodiversity and historic resources of the Remutaka Forest Park valleys and environs... (More)
It has been active in bringing about many improvements to the Park and to the Catchpool Stream picnic areas and camping grounds. (Download our flyer here...)
Our "Restore the Dawn Chorus" project is now in its 18th year and our flagship "Kiwi Project" has produced a large number of beautiful baby kiwi chicks!
*** Last year we celebrated our 30th anniversary since the Trust was formed in 1988 ***
---
View our latest Newsletter here:
Remu-talker - November 2019 (PDF ~2.2 Mb)
Link to Latest Catchpool Restoration Update (November 2019)
President's Annual Report - 2019 (PDF ~938 kb)
What does a male Brown Kiwi sound like? Here's one calling on the first night of his release into the Remutaka Forest Park in May 2006.
(848kb wav Recording, courtesy S. Ellis)
Click the kiwi to play...
Female kiwi calls have a very different sound to male kiwi calls.
Here's a recently recorded female North Island brown kiwi calling, quite close to the microphone. (78kb MP3 format sound file). Credit: S. Ellis, 2019 - Remutaka Conservation Trust.
Annual General Meeting - 2019
The Rimutaka Forest Park Charitable Trust Inc. operating as:
Remutaka Conservation Trust
Venue:

Petone Library Meeting Room

Brittania St

, Petone

Date:
Wednesday, 30th October

, 2019

Time:

7.30pm
Our grateful thanks to Grant Watt, who retired from the office of Trust Secretary last night. Grant has put in many years of great service to our community group in this role. He remains a Remutaka Conservation Trust member and will continue to help out with our CiviCRM system and FIXIT team.

New committee members welcomed last night were Esther King and Linda Olsen - both well-known to the Trust through previous community group liaisons and events. 2019 - 2020 Committee

The AGM was followed by a superbly informative and amusing presentation from

Stephen Marsland

on the topic:

"Cryptics and Cross Words: Spying on Kiwi"

.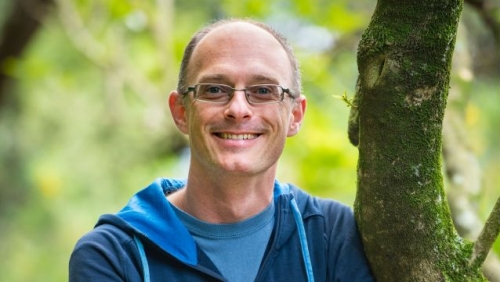 Stephen Marsland is professor of mathematics and data science in the School of Mathematics and Statistics at Victoria University of Wellington. (Photo credit: Victoria University of Wellington).
His research interests are in applications of geometry and complex systems, principally shape spaces, machine learning, and algorithms.
S
tephen is the author of "Machine Learning: An Algorithmic Perspective" - This book is aimed at computer science and engineering undergraduates studying machine learning and artificial intelligence. Now in its 2nd edition.
H
e does a lot of work analysing birdsong, with the aim of automatically recognising bird species and inferring population densities from this information.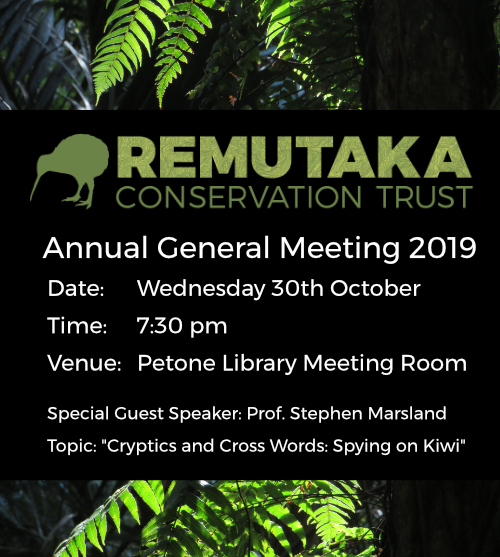 Notice for the AGM for Remutaka Conservation Trust held on Wednesday, 30th Oct, 2019.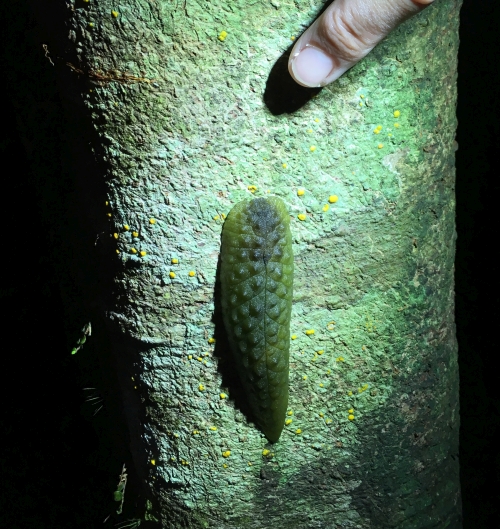 Leaf-veined slug observed at night in the Remutaka Forest Park. Click for a close-up image. Photo credit: Nancy Covington (Finger for scale courtesy of Susan Ellis).
These nocturnal slugs (Pseudaneitea sp.) are found in native bush and forests and graze on fungi and algae on leaf surfaces. One of our kiwi handlers, Susan Ellis, was up on McKerrow Track at around midnight the other night deploying acoustic recorders and listening for kiwi calls, when she and visiting Canadian, Nancy Covington, observed this fascinating creature. There are more than 23 native species of this family.
Our forests and streams come alive at night, with many nocturnal species. Native freshwater fish, Land planaria, weta and millipedes are also frequently observed.
---
Goat Cull - Turere & Whakanui Catchments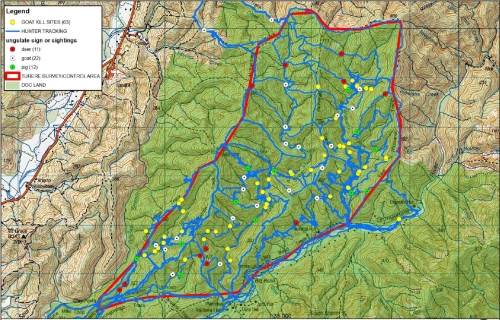 Map showing extent of recent ungulate control operation sponsored by DOC in the Remutaka Forest Park. (Click for a larger image). Source: BCL Report, June 2018.
Feral goats, pigs and deer do a huge amount of damage to native New Zealand forests, leading to the local extinction of many precious endemic plants and the wildlife communities dependent upon them.
The Department of Conservation recently commissioned Backcountry Contracting Limited (BCL) to conduct a low-intensity survey and operational sweep for goats and other ungulates in the core Remutaka kiwi territory made up of the Whakanui and Turere catchments.
63 goats were killed and a survey made of all goat, deer and wild pig sightings. The operation was delivered using 2 ground hunters with indicating, finder/bailer and indicating/bailing type dogs.
BCL made a number of helpful observations and recommendations to DOC following this survey. One was that there is a need to target ALL ungulate species in the control area, as well as in neighbouring catchments, to reduce the migration of feral pests into the area.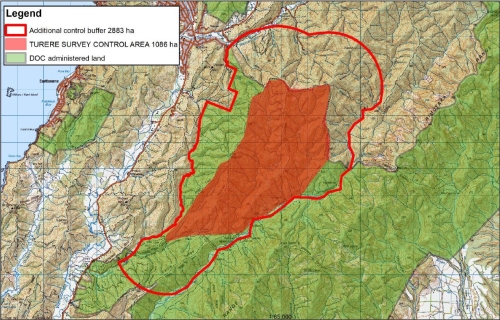 Map of suggested buffer zones and recommended extended ungulate control - Remutaka Forest Park. (Click for a larger version) BCL Report, June 2018
Recent Hatches...
Kiwi chick, currently designated RFP48, being held by a staff member at the Pukaha Mt Bruce National Wildlife Centre hatchery soon after it hatched from its egg. Photo credit: @PukahaMtBruce
Another photo of kiwi chick, RFP48, being held up for show at Pukaha Mt Bruce. (Click any photo for a larger image...)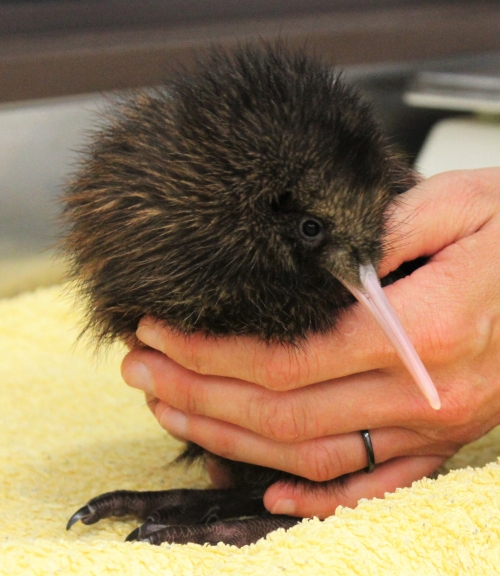 The meaning of 'cute' - a Remutaka Forest Park chick just a day or so after it hatched from its egg at Pukaha Mt Bruce. #RFP47
Photo credit: Pukaha Mt Bruce.
Recent visitors...
US Embassy (NZ) staff with visiting former Chief of United States Forest Service, Dale Bosworth and RFPT President, Geoff Cameron at the Catchpool Centre, Remutaka Forest Park.
Chief Bosworth is in New Zealand on an official US State Department speaking tour, during which time he has visited many forestry-related organisations and research institutions. We were delighted that he came to visit us at the Catchpool on a somewhat damp Friday afternoon to learn more about our conservation-related community volunteer efforts - and to reminisce about forestry matters with another lifetime career forester, Geoff Cameron.
Photo credit: PC.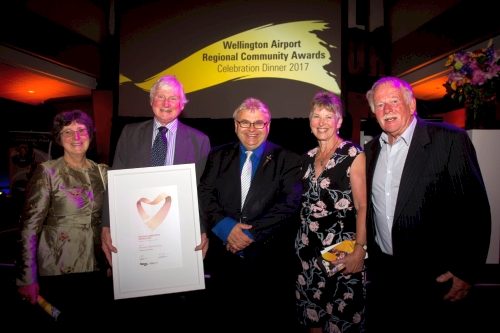 Trust members with Hutt City Council Mayor, Ray Wallace, at the finalist's dinner for the Wellington Airport Regional Community Awards, 2017. Photo credit: Wellington Airport.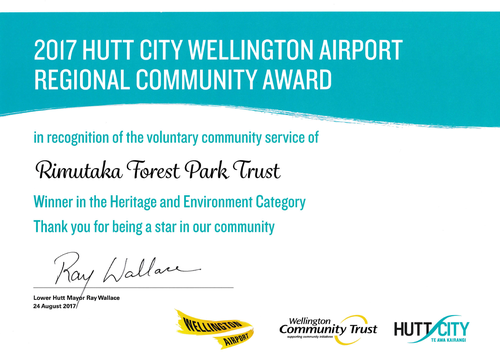 Rimutaka Forest Park Trust volunteers won the Heritage & Environment award at the 2017 Hutt City Wellington Airport Regional Community Awards too. Well done team!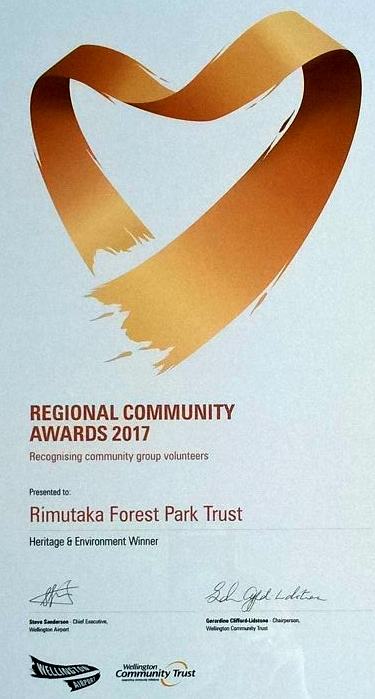 The Heritage & Environment Award certificate presented to the Rimutaka Forest Park Trust at the Wellington Airport Regional Community Awards 2017.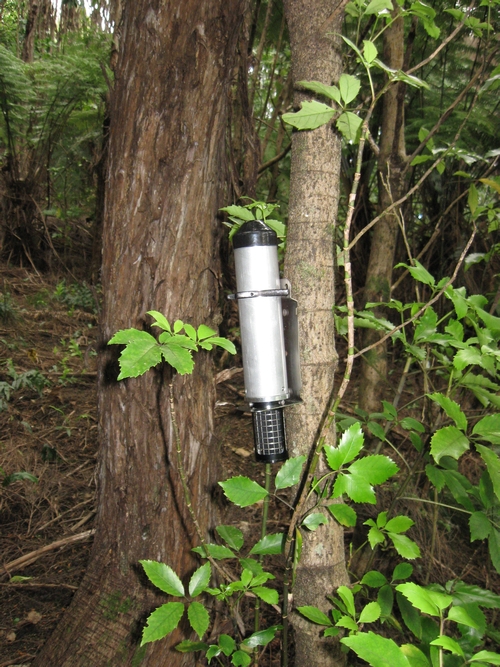 Acoustic survey of the diurnal bird population in the Remutaka Forest Park
In December of 2015 the Trust deployed acoustic recorders at 75 sites in the Remutaka Forest Park, in order to estimate the relative abundance of diurnal bird species. This was the first time such a comprehensive survey of day birds had been carried out in our region. We followed the counting protocol used by researchers at Victoria University of Wellington. (More...)
Read the full report here: Report: Acoustic Monitoring - RFPT
(Adobe Acrobat Reader format: PDF, approx. 4Mb)
---
Kiwi Spy
What's hidden down there in that deep, dark burrow? Here's a really good way to reveal all!
Read all about Alan Thompson's Kiwi Spy device here:

---
Why not join us?
New members are always welcome!We have many different and interesting roles to fill for keen volunteers. Learning opportunities abound and you'll enjoy the company of many great characters among our existing members! Perhaps you have some specialist skills that you'd like to contribute to assist us in attaining our long-term goals and objectives? If so, please complete the Membership Application Form here... and send it in to the Membership Secretary by mail or email. (For address details, click here...
---
New Interpretive Signs
Unveiling of Bird Interpretation Panels, Rimutaka Forest Park
To conclude last year's shared celebration of National Parks, the Department of Conservation, the US Embassy, and Rimutaka Forest Park Charitable Trust unveiled a series of native bird information panels for the Catchpool Valley of the Remutaka Forest Park, near Wellington.
The ceremony on Tuesday December 20 commenced with a blessing from representatives of the Wainuiomata Community Marae.
The dedication and short welcoming remarks from the President of the Trust, Geoff Cameron, was followed by brief addresses by the US Embassy NZ's representative, Rob Tate and also from Department of Conservation representative, Jack Mace.
The construction of the panels was made possible by a grant from the U.S. Embassy which then worked with the Trust on the design of the information panels about native bird species.
"We are very grateful for the grant from the U.S. Embassy towards this natural history-environmental management project. It helps to celebrate 100 years of the U.S. National Parks Service in 2016 and helps New Zealanders learn about the native birds they are encountering in the Catchpool Valley," says Geoff Cameron, President of the Rimutaka Forest Park Trust.
Embassy Public Affairs Officer Rob Tate says that the shared year-long project to celebrate the importance of national parks and mark 100 years of the US National Park Service has been something the Embassy has been deeply committed to.
"Working with DOC, various iwi, and environmental trusts we have taken part in a huge range of activities. We have done the traditional planting of trees, and also done things like assisting in monitoring native bird habitats and walking the Tongariro Alpine Crossing with Ambassador Gilbert. We brought out a US Park Service Ranger from Hawaii to share best practices with her New Zealand counterparts, and the Senior Advisor on Native American Affairs at the White House to discuss the role of indigenous peoples in stewardship of natural spaces. We hope that all of these projects will continue to bear fruit well into the future," he says.
"The team from the Rimutaka Forest Park Trust have been a delight to work with and it has been so rewarding to be involved in another project that will educate future generations about the importance of taking care of our natural heritage," he adds.
DoC Hotline: 0800 362 468
(0800 DOCHOTline)